BBQDigest
The internet's best resource for finding the right barbecue grill.
July 11, 2021
10 minute read
If you're looking for the best possible grill and money is no option then you've come to the…
July 6, 2021
10 minute read
When it comes to the best gas grills, there's plenty to choose from. We rank and review 6 of our favorites across all price ranges.
July 6, 2021
11 minute read
The 6 best charcoal grills, reviewed. These are perfect if you want smoky flavors and you love cooking over an open flame.
About BBQ Digest
BBQ Digest is the internet's best resource for finding the right grill for you. Whether you're a seasoned pit master or a beginner behind the BBQ, you'll find detailed reviews and information to help you make informed decisions. We rate and review all kinds of grills for every price point—so you can find the perfect equipment for your next backyard grill out.
Martin Stokes: BBQ Grill Review Master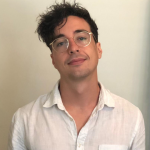 Martin Stokes is a barbeque fanatic. If it burns, smokes or grills, he's tried it and written about the results. When he's not writing about barbeques, he's outside grilling himself. Come rain or shine, Martin will fire one up to make sure his steaks are perfectly seared. If he had one wish it would be for an eigth day to the week, just so he could grill once again.
---